Công tắc áp suất 805QS Sor - SorInc Vietnam
Mô tả:
Nhà cung cấp Sor tại Việt Nam
Thành phần:
Pressure Switch
Pressure Switch 805QS Sor - Công tắc áp suất 805QS Sor - Sorinc Vietnam
The 805 QS pressure switch-transmitter is a compact loop-powered pressure switch-transmitter.
A supplemental continuous output is also available (either 4-20mA or 1-5VDC). Its rugged construction makes cost of ownership low
and it carries a three-year warranty. The SOR® 805 pressure switch-transmitter is suitable for hazardous locations and hostile environments where space is limited. It meets applications where low-cost, discrete and continuous monitoring is preferred. Switch set points and supplemental continuous output zero and span points are field adjusted via SOR Calibration Kit with USB communication cable.
Features
Compact,

316

Stainless Steel,

explosion proof housing

Stainless Steel sensor, no o-ring

Solid state switch output (805QS only)

0.25% continuous output accuracy

Hermetically sealed leads

LCD Display option available

EMI/RFI

protection

NEMA 4X, IP 66 housing

Dual Seal approval

INMETRO

approval

FM and ATEX certified for hazardous locations in U.S., Canada and Europe
* Cách chọn Công tắc áp suất Sorinc
1. Pressure Switch-Transmitter
Model : 805QS
2. Supplemental Output
C 4-20 mA
V 1-5 VDC
3. Range
00 0-5 psi
01 0-15 psi
02 0-50 psi
03 0-100 psi
04 0-250 psi
05 0-500 psi
06 0-1000 psi
07 0-2500 psi
08 0-5000 psi
09 0-10000 psi
10 0-15000 psi
11 0-30000 psi
12 0-15 psia
13 0-50 psia
14 0-100 psia
4. Process Connection Size
A
Stainless Steel, 1/2"NPT(M) with 1/4"NPT(F), Process Connection (316SS for ranges 0-100 psi and below) (17-4SS for ranges above 0-100 psi)
S 316SS, 1/2" NPT(M) flush-mount, liquid filled, diaphragm seal
H 17-4SS, Autoclave F250C Female (For 1/4" OD Tubing), Process Connection
Example : 805QS - C 07 - A - RR
Product Specifications

Primary Switch Output (805QS only)

Accuracy ±2% URL

Type Normally Open

Solid State Relay

Electrical Rating 30V, 120mA Temperature Effect ±2% URL/100oF @ -40 to 176oF

Continuous Output

Accuracy ±0.25% URL (BFSL) (Linearity, Hysteresis, and Repeatability) Turndown 5:1

Output 4-20 mA

1-5 VDC option (27mW ± 5mW @ 9 VDC) Zero Offset +10% URL

Temperature ±1% URL/100oF @ -40 to -176oF

Temperature Range

Compensated -40 to 176oF (-40 to 80oC) Ambient -40 to 176oF (-40 to 80oC)

Process -40 to 194oF (-40 to 90oC)

Storage -40 to 194oF (-40 to 90oC) Long Term Stability < ±0.5% URL per year Response Time < 5 ms

Supply Voltage 8-30VDC

Loop Resistance 800 ohms @ 24VDC

Circuit Protection Reverse polarity and EMI/RFI protected

Construction 316SS housing (CF8M)

Process Connection 1/2" NPT(M) with 1/4" NPT(F) and Autoclave F250C(F) for 1/4" OD tubing

Electrical Connection

Size 1/2" NPT(M)

Termination 18 AWG shielded cable, 72-inch length

(Consult factory for alternate electrical connections)

Wetted Materials 316-SST (for pressure ranges

0-5 psi thru 0-100 psi)

17-4SST (for pressure ranges above 0-100 psi)

Over Pressure

0-5 thru 0-100 psi 3 times FSPR

0-250 thru 0-10,000 psi 2 times FSPR Up to 30,000 psi 1.4 times FSPR

Burst Pressure

0-5 thru 0-100 psi 4 times FSPR

0-250 psi 40 times FSPR

0-500 thru 0-1000 psi 20 times FSPR

0-2500 psi 10 times FSPR

0-5000 psi 8 times FSPR

0-10,000 thru 0-15,000 psi 4 times FSPR

0-30,000 psi 1.8 times FSPR

Weight 1.8 lb (0.8 kg)

Warranty 3 years
Bản vẽ QS850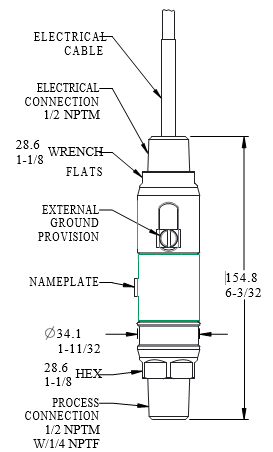 Trực tuyến:

22

Hôm nay:

3855

Tuần này:

10481

Tuần trước:

9957

Tháng trước:

18941

Tất cả:

1143959