Đại lý Land Ametek tại Việt Nam - Ametek VietNam
AMETEK Land is a specialist in the design and manufacture of monitors and analysers for industrial infrared non-contact temperature measurement, combustion efficiency and environmental pollutant emissions.
Our extensive range of infrared thermometers provides online temperature measurements and control. Innovative, flexible solutions customisable for diverse processes and specialised applications. ...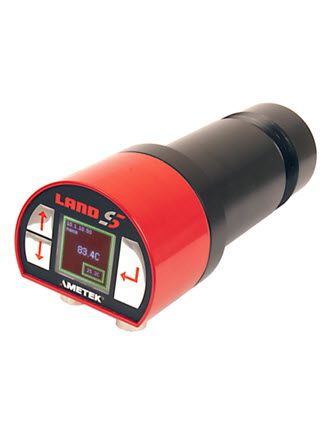 SPOT is a family of fully featured, high performance pyrometers for fixed non-contact infrared spot temperature measurements. Available in range of operating wavelengths, temperature ranges and process requirements.
Model : M100, M100 F.O, M160, M160 F.O, M210, R100, R100 F.O, R160, R210
Providing high-resolution thermal information, our imagers and linescanners set the industry standard for performance. Backed by advanced software support, they supply the information you need to keep your process running safely and efficiently.
A comprehensive range of blackbody calibration sources enables high-precision calibration of radiation thermometers under on-site and laboratory conditions. Designed to work seamlessly with our instruments, primary and reference sources available.
Our high-quality Cyclops L handheld thermometers provide spot temperature measurements, with unmatched accuracy and reliability. Trigger-operated for easy use, with precise target viewing and on-board data storage. ...
Close monitoring of oxygen, carbon monoxide and sulphuric acid dewpoint can help improve combustion efficiency, lower energy use, reduce emissions and prevent plant corrosion. We offer precision measurements for these applications.
The Lancom 4 range lets you take AMETEK Land's cutting-edge, easy-to-use gas analysis on the move. With up to nine gas measurements on a single analyser, there are solutions for combustion monitoring and environmental compliance.
The most advanced range of opacity, dust and particulates monitors available, use patented technology to deliver highly accurate results. With no moving parts, they combine high reliability with low maintenance. ...
Providing early warning of combustion in process and storage areas, our highly sensitive CO detectors monitor the entire process. This gives the best chance of early detection, allowing rapid action to prevent fire. ...
Our world-leading products are fully supported by the latest software technology. Standard and application-specific packages deliver the highest performance and functionality to supported industries and applications. ...
We design systems specifically to solve critical temperature measurement problems in particular industrial applications. These specialised solutions provide optimised performance in challenging processes. ...
Đại lý Land Ametek tại Việt Nam - Ametek VietNam
Trực tuyến:

1

Hôm nay:

1294

Tuần này:

3690

Tuần trước:

8756

Tháng trước:

11441

Tất cả:

498765